There are many types of property for sale in Javea. The town has been a major travel destination since the 1970s and over the past 20 years has attracted property buyers from all over the world. It has some of the best coastline scenery in Spain, and a variety of beaches and coves. For this reason it is easy to see why this small Spanish coastal town is the destination for many people wanting to buy property for sale in Javea/Xabia.
This unique area has some unusual factors that add to it´s appeal, the town has three main areas each having a totally different feel and character.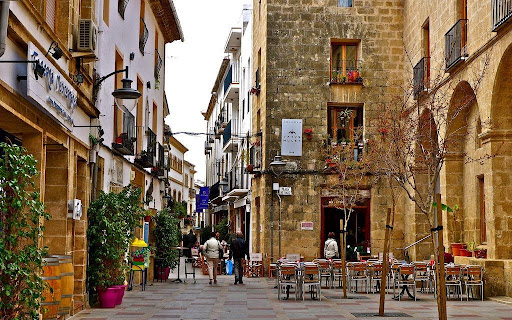 Located on the lower slopes of the Montgo mountain, this traditional Spanish town is very popular with property searchers. If you are looking for property for sale in Javea/Xabia. Here you will mainly find traditional apartments and town houses for sale.
The town has everything from outdoor local markets which are held every Thursday, although the central indoor market is full of fresh produce daily. Also you will find a variety of small cobble streets and squares with many traditional bars. If you walk around these quaint streets, you could be forgiven for thinking you were nowhere near the sea, although it´s only a 10 min walk.
The Javea/Xabia Port and Marina,
Just a short 10 min walk from the Old Town, we find property for sale in Javea Port and Marina. This is also a very popular area of Javea where you will find mainly apartments for sale. Although most of the properties are apartments or Townhouses, also high above the Port you find luxury villas in the areas of La Corona and Cabo San Vicente.
It is still a working port, with it´s own small fishing fleet where you can buy fish every morning direct from the boat!! Also apart from the commercial port, there is Javea marina which caters for pleasure craft of all sizes. The Marina has a sailing club and runs sailing courses for all ages throughout the year.
The Port itself is a popular area if you are looking at property for sale in Javea/Xabia, it has a variety of bars and restaurants, most overlooking the sea and pebble beach. Also the port has a local cinema which shows both Spanish and English films every week.
Javea Arenal
Probably the biggest attraction for tourists and house hunters looking for property for sale in Javea Arenal. Here you will find the wide sandy Arenal beach so it is perfect for families and small children. The beach gently slopes into the sea and is perfect for all ages.
Property in the Javea Arenal area consists mainly of apartments, with some of the luxury complexes having prices starting from 500,000 euros upwards. Here at the Javea Arenal, you will find water sports, boat and jet ski hire, paddle boarding, surfing and many more attractions for beach lovers.
With its wide promenade with shops bars and restaurants, it is easy to see why it attracts so many visitors throughout the year. It is one of the very few resorts that has no main road running through the beach area, so the only traffic you see here is going to the beach!
Fincas for sale in Jávea/Xàbia
Villas with Pools for sale in Jávea/Xàbia
Villas with Sea Views for sale in Jávea/Xàbia
Villas with open views for sale in Jávea/Xàbia
Plots for sale in Jávea/Xàbia
New build villas for sale in Jávea/Xàbia
Javea Town Hall
The town hall is the focal point of every community, it is here that you will pay all your local taxes such as rubbish ( basura ) and council tax (ibi). It is also where you will register on pardon which is equivalent to the UK electoral roll.
Contact details
Church Square, Jávea 
Tel: 966462795
From Monday to Friday from 08: 00 to 15: 00 h.
Website: ajxabia.com
Facebook: ajuntament.xabia
Instagram: @AjuntamentXabia
Email: info@ajxabia.com
Javea Health centre
There are three health centres in Javea covering the Port, Arenal and Old Town.
The main health centre is in the Old Town and is open 24 hours per day
Address
  Plaça de la Constitució S / N 
966 42 81 50 (health center consultation and appointments). To call the emergency room, the phone is 966 42 81 53. 
Property news about Jávea/Xàbia
Search Property for sale in Javea
Types of property for sale in Javea Javea's real estate market offers a variety of property for sale to suit different lifestyles and budgets. Here's a glimpse of some of …
Finding the Best Lawyers in Javea
When it comes to legal matters, having a skilled and experienced lawyer by your side is crucial. Whether you're facing …