If you haven't already been to Valencia, or even thought of visiting this dynamic coastal City, then maybe it's time to research a little more and book a trip! Here we have some more information which may give you a better insight to Spains 3rd largest city, voted one of the most up and coming cities in Europe, with beaches, modern and traditional architecture, excellent infrastructure with International airport and high speed rail links to Madrid, Valencia is a destination that deserves more investigation for those looking to experience a vibrant Spanish culture or those looking for a leading area to invest.
Valencia Festivals


Throughout the year there are many festivals in Valencia City, below are just a few to give an insight into Valencia life and culture.
The Fallas 15th to 19th March.
The onset of spring season brings the Fallas festival to the streets of Valencia and marks one of the biggest festival weeks in the Valencia calendar. The festival originates from when craftsmen guilds would stop work at night and light a rustic Parot ( wooden lighting device ) to illuminate the front of their workshops. To keep the light burning they would use old cuts of waste wood, along with old pieces of junk collected from the local area. After the fire the parot would be brought back to life by dressing with cloth rags and old hats to give it some kind of human form. These were then placed so that they could be seen in the distance, the meaning behind this is that everything bad is burned and reborn from the ashes to welcome
spring.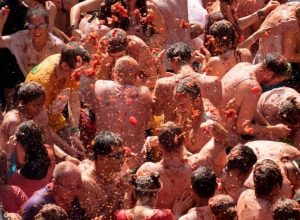 La Tomatina. Bunol. Takes place the last Wednesday in August.
Known as the World's biggest foodfight, thousands of people from all over the world travel to the town of Bunol near Valencia. As the name suggests the tomatoes are the weapon of choice and during the festival more than one hundred metric tons of over ripe tomatoes are used.
Normally the population of this small town is around 9000, and prior to 2013 the population increased to between 40 and 50,000 during the festival. For safety reasons, since 2013 the numbers are regulated and now limited to 20,000 entrants.
Moto GP November, Ricardo Tomo Circuit
November brings the world Moto GP championships to Valencia, this is the last race weekend in the calendar and always proves to be an action packed weekend, with the World's leading motorcycle teams and riders taking part.